Posted by filip737 on April 8, 2012
After my derby win, 2-1 against Partizan, I was feeling good about my team when it comes to beating strong teams. Next match was a cup game, against a rival that I thought was going to be easy. I was wrong. I had to win this game on penalties, as it finished 1-1. The early red card for Dominguez did no let my team play their game. Poor game played by my team overall, I was lucky that all the penalty takers for me scored and 2 of theirs missed. I was now worried, and a bit confused as to what went wrong….

Next up was a 2-0 against OFK Beograd. A game where nothing special happened, my strikers were playing good enough to score a goal each thanks to their running and good timing. If you look at the stats you can see that i killed them, so I think I should have won with more than just 2 goals, but a victory is a victory, and Dimitrijevic picked up the man of the match award, I need to see more performances like that from him. But with an average rating of 7.09, the team was nothing special.
Next up, another big game for the Europa Leage group, against AEK. LAt time I managed to trash them 6-0. Was this luck? Or was it talent and good strategy? Take a look and see how the next game went on…
4-1! Another impressive game by my boys against the Greek Team. Kaludjerovic once again accurate from the penalty kick, and Dimitrijevic adding a flying header at the end (check out the video). But the man of this match was Omar Wade, my new striker who is now finally free of injury. He scored 2 goals and added an assist. Look at the video and you will see he moves very well when he scored his goals, and keeps his composure. Excellent finishing! Wade scored 3 goals in the last 2 games.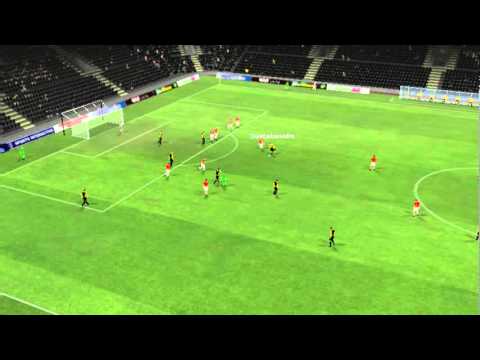 But Wade didn't stop there. Another league game, against Metalac, finished up with a 3-0 win. Wade scored another 2 goals within the space of 5 minutes from each other. He took 3 shots, all 3 were on target, and 2 were goals. Also, he added an assist! Great efficiency! The midfield anchor (Dimitrijevic) is now starting to prove himself, scoring another long range goal, and adding an assist. From my subs, Borja was wasteful (3 shots, and 0 on target) while Evandro managed 2 shots (both on target) within 10 minutes of being on the pitch.
5 goals in 3 games, impressive, huh? Well it didn't stop there. In the next game against Javor, we won 3-0, and my main 2 strikers, Kaludjerovic and Wade paired up well. Kaludjerovic scored 2, and Wade scored one. So that is 6 goals in 4 games for Wade.
Unfortunately, Wade picked up an injury at training, so I had to rest him. However, Kaludjerovic picked up the slack and started getting hot himself. In the next game, we won 4-0, and he scored another 2 goals. Darko Lazovic, my talented young right winger had his 6th straight assist in the last 6 games. Dominguez has not scored much lately, but he is racking up the assists and really helping the other strikers. I gave a chance to Vrsic and Savio, and Savio (the defensive midfielder) scored a beautiful curling long shot. I found it interesting that after Mihajlovic got a red card, and my team played with 10 men, I scored another 3 goals…hmmm
Against Metalac in the next game, Kaludjerovic scored one more time, making it 5 goals in 3 games! My other striker Borja finally scored. Evandro also put in another good performance, and added a goal himself. This was another game, another big win, another dominated team.
So I think this post has quite a bit to read and look at, so I will end it here and pick up very soon…tune it for my next Europa League game !! Can I win again?!? Will the fairy tale go on??? Will Red Star progress in Europe? FIND OUT NEXT TIME
Posted in fm | 7 Comments »